Asylum for a Youth Leader from Azerbaijan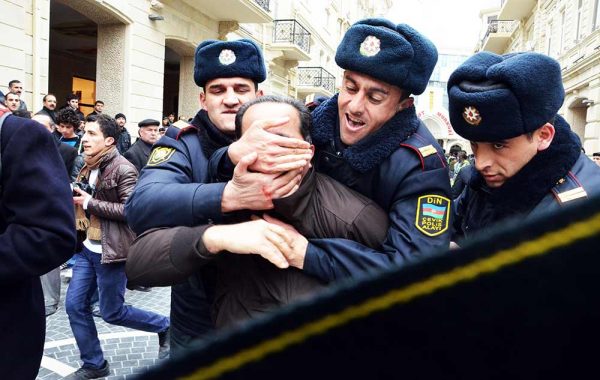 Attorney Ismail Shahtakhtinski secured a grant of asylum through immigration court for a co-founder of an opposition youth organization who was persecuted by the Azerbaijani regime because of his political opinion.
Our client's case was referred from asylum office to immigration court after it was mishandled by his previous attorney. It is very important to hire a competent lawyer from the beginning of your asylum process and focus on obtaining approval from the USCIS asylum office rather than immigration court. Some attorneys will simply prepare your application and attend your asylum interview, whereas a zealous attorney will be your advocate, give individual attention to your case, and educate the asylum officer about every aspect of your case, making sure that the facts are presented correctly and key information is not overlooked. Choosing a wrong attorney during the asylum office stage may end up costing you a lot more in the long run. An unscrupulous attorney may not only ruin your chances of obtaining asylum from asylum office, but also hurt your chances of eventually getting asylum from immigration court.
If you are denied by asylum office and your case is transferred to immigration court, the process will take years as opposed to a couple of months, you may be unable to work legally while your case is pending, and your otherwise eligible children abroad may "age out" of their eligibility to claim derivative asylum even if you are eventually approved. If you are denied in immigration court, you face deportation, as chances of getting asylum on appeal are usually very slim. For more information on importance of having a competent attorney and the difference between getting asylum through the USCIS Asylum office versus Immigration Court, see the page on our website.
In this case, our firm was retained to represent the client in immigration court. We demonstrated to the satisfaction of the immigration judge that the government of Azerbaijan detained, assaulted and threatened our client because of his political views, opinion, and political activities. Our client was repeatedly arrested, beaten and expelled from a university because of his political opinion. We presented subjective evidence, such as affidavits to establish our client's role in a well-known youth organization, as well as objective evidence, including the U.S. Department of State reports on human rights in Azerbaijan as well as numerous country reports, to support our client's story.
Our client grew up in a politically active family in Azerbaijan and witnessed widespread fraud and intimidation on part of the government during the November 5, 2000, parliamentary elections, when he was still a teenager. Several years later, our client and his like-minded friends started a pro-democracy organization, which became one of the largest youth organizations in Azerbaijan. Our client was also involved in a youth-oriented oppositional newspaper, which was later forcefully closed by the Azerbaijani government. Because of our client's oppositional activities, he was repeatedly attacked, detained, assaulted, and threated by the Azerbaijani government.
After his arrival to the United States in 2010, our client continued to monitor politics in Azerbaijan and participate in Azerbaijan-related pro-democracy events in the United States. In March-April 2011, pro-democracy activists inspired by the "Arab Spring", organized a number of non-violent pro-democracy protests in Baku, the capital of Azerbaijan. The protests were brutally broken up by the police, and many participants were arrested and tortured in prisons. Amid protests, the Azerbaijani Embassy in Washington, DC, invited Azerbaijani students studying in the United States to an event where Azerbaijani officials openly warned students against participating in pro-democracy protests, threatening them with imprisonment in Azerbaijan.
By submitting objective evidence, we showed that the Azerbaijani judicial system has failed to provide adequate protection to wrongly accused oppositional activists. The 2011 U.S. Department of State report on human rights in Azerbaijan states: "The most significant human rights problem during the year was the restriction of freedoms of expression, assembly, and association. For example, throughout the year, but especially in the spring, several political protests calling for democratic reform and the government's resignation were forcefully dispersed, and 15 protesters were sentenced to 18 months to three years in jail for their participation in such protests. Applications to hold protests in Baku were repeatedly denied throughout the year. A second significant human rights problem involved the fairness of the administration of justice due to reports of strong executive branch influence over the judiciary, lack of due process, politically motivated imprisonments, measures against independent lawyers, and reports of torture and abuse in police or military custody that resulted in at least nine deaths. A third major problem area was the violation of citizens' property rights, including forced evictions and demolitions on dubious eminent domain grounds, and inadequate compensation. Other human rights problems reported during the year included generally harsh prison conditions that in some cases were life-threatening. Arbitrary arrest and detention, particularly of individuals considered by the government to be political opponents, and lengthy pretrial detention continued. The government continued to imprison persons for political reasons, although authorities released some of these individuals during the year. The government continued to restrict the religious freedom of some unregistered Muslim and Christian groups. Pervasive corruption, including in the judiciary and law enforcement organizations, continued." Similarly, previous U.S. Department of State reports on human rights in Azerbaijan confirm that unlawful detention, especially for political reasons, and mistreatment of such detainees had been widespread in 2007-2010 as well.
We proved that if our client were forced to return to Azerbaijan, he would be in great danger of being detained and imprisoned on fabricated charges and likely tortured. We showed that, since our client fled Azerbaijan in 2010, political situation in the country has not only failed to improve, but has gotten significantly worse. On May 22-26, 2012, the Eurovision Song Contest took place in Baku, Azerbaijan. Pro-democracy activists attempted to use this occasion to draw attention to human rights violations and the lack of freedom of expression in Azerbaijan. However, peaceful pro-democracy protests continued to be suppressed, and the crackdown even intensified in the lead-up to the Eurovision contest as the authorities desperately tried to "save face" by hiding domestic dissent from the international community. In the wake of the Eurovision contest, activists continued to be detained and imprisoned on fabricated charges. In November 2012, Azerbaijani parliament adopted amendments to the law on public gatherings, which significantly increase fines for illegal demonstrations. As recently as in December 2012, dozens of activists have been detained at a peaceful rally in Baku.
By presenting evidence of persecution of pro-democracy activists in Azerbaijan, in addition to documenting our client's personal story, we were able to obtain asylum approval for our client.
In order to be granted asylum, the applicant must prove that he/she qualifies as a refugee. According to the official definition, a refugee is a person who, "owing to a well-founded fear of being persecuted for reasons of race, religion, nationality, membership of a particular social group or political opinion, is outside the country of his/her nationality and is unable or, owing to such fear, is unwilling to avail himself/herself of the protection of that country; or who not having a nationality and being outside the country of his/her former habitual residence…., is unable or, owing to such fear, is unwilling to return to it".
To obtain approval of our clients' asylum petitions, attorneys at I.S. Law Firm gather subjective and objective evidence, country reports, complete the forms, write memorandums, thoroughly prepare our clients for the questioning, and stand by our client's side, supporting him or her throughout the entire process. I.S. Law Firm is proud of our current 100% success rate in affirmative asylum cases from Azerbaijan. "Affirmative" asylum case refers to a petition filed with the USCIS, normally within one year of our client's arrival to the United States. By contrast, "defensive" asylum cases are administered through immigration courts after a person files for asylum to avoid deportation.
PLEASE NOTE THAT CASE RESULTS DEPEND UPON A VARIETY OF FACTORS UNIQUE TO EACH CASE. CASE RESULTS DESCRIBED BELOW DO NOT GUARANTEE OR PREDICT A SIMILAR RESULT IN ANY FUTURE CASE UNDERTAKEN BY I.S. LAW FIRM, PLLC.
If you think you may qualify for asylum, please contact us at +1-703-527-1779 or via e-mail: [email protected].
View more successful asylum cases: