Asylum for a Pro-Democracy Activist from Azerbaijan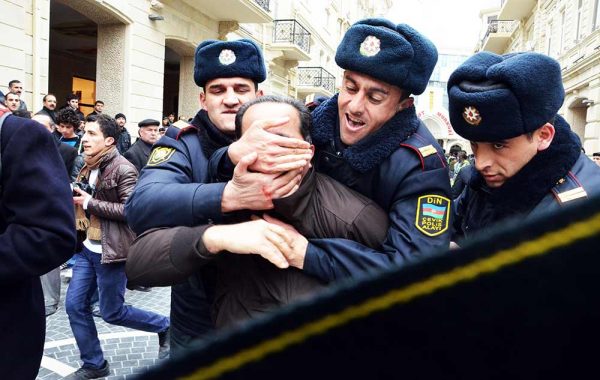 I.S. Law Firm secured a grant of asylum through the United States Citizenship and Immigration Services (USCIS) for a political activist from Azerbaijan, whose family had been persecuted for their opposition views.
In preparing evidence in support of our client's petition, and during the interview with a USCIS officer, attorney Ismail Shahtakhtinski of I.S. Law Firm demonstrated to the satisfaction of the USCIS that the government of Azerbaijan detained, physically harmed, and threatened our client's family, based on their political views, opinion, and political activities. We showed that our client's family members were denied employment, threatened and physically harmed, and even imprisoned because of the family's political activities. As such, we were able to obtain the grant of asylum for our client.
In order to be granted asylum, the applicant must prove that he/she qualifies as a refugee. According to the official definition, a refugee is a person who, "owing to a well-founded fear of being persecuted for reasons of race, religion, nationality, membership of a particular social group or political opinion, is outside the country of his/her nationality and is unable or, owing to such fear, is unwilling to avail himself/herself of the protection of that country; or who not having a nationality and being outside the country of his/her former habitual residence.., is unable or, owing to such fear, is unwilling to return to it".
In this particular case, our task was to demonstrate that several of our client's family members, including our client himself, have opposed the Azerbaijani authoritarian regime and have suffered persecution because of it. After Heydar Aliyev, a former KGB general, forcefully overtook power in 1992, one of our client's relatives was among the forces opposing Aliyev's anti-democratic government. Soon after, the relative was jailed on the charge of "treason against the nation" as a revenge of Aliyev's government. The relative later died in prison because of poor prison conditions and insufficient treatment.
Our client started his political activities when he was still a teenager, campaigning against the incumbent president Heydar Aliev in the 1998 Azerbaijani presidential elections. Heydar Aliyev was proclaimed winner of the deeply flawed 1998 election. In October 2003, another presidential election was held in Azerbaijan. Heydar Aliyev, whose health deteriorated, put forward his son Ilham Aliyev's candidacy. Ilham Aliyev was declared president after the 2003 election, which was again falsified, according to independent and international observers. Our client participated in protests after the Election Day in opposition to the election fraud. The protests were brutally attacked by police.
Our client continued to promote pro-democracy values and sharing of ideas among university students. He co-founded a student organization that advocated for democracy in Azerbaijan. Members of the group faced intimidation and surveillance from university staff loyal to the authoritarian regime of Azerbaijan. Later, our client witnessed intimidation and restriction of the freedom of speech in the Azerbaijani military, as soldiers were openly instructed to vote for the incumbent president Ilham Aliyev in the 2008 presidential election, which resulted in Ilham Aliyev's reelection. A year later, presidential term limits were abolished in the 2009 referendum. Both elections were deemed flawed by international monitors.
During the parliamentary elections of November 2010, our client supported and campaigned for the oppositional candidate Bakhtiyar Hajiyev, a young pro-democracy activist educated at Harvard University in the United States. Bakhtiyar Hajiyev lost in another falsified election. Soon after the election, Bakhtiyar Hajiyev, who was determined to challenge the results of the unfair election, was briefly arrested on the pretext of evading military service. Around the same time, our client was severely beaten, threatened and tortured for several hours.
Attorney at I.S. Law Firm proved that our client, a young and politically active person with strong democratic values, exemplifies exactly the type of an activist that the government of Azerbaijan fears as a threat to its dictatorial regime and persecutes out of such fear. We demonstrated that young opposition activists and journalists have long been persecuted, detained and even killed in Azerbaijan.
The Azerbaijani judicial system has failed to provide adequate protection to the wrongly accused oppositional activists, as illustrated, for example, by the case of two Azerbaijani youth activists and bloggers who were denied a fair trial. In November 2009, Amnesty International condemned the sentencing of Emin Abdullayev and Adnan Hajizade to 2 and 2.5 years in prison, respectively, in what the organization called an unfair trial on fabricated charges, claiming that the bloggers were imprisoned solely for exercising their right to freedom of expression. In March 2010, the bloggers lost appeal against their conviction on what was widely believed to be fabricated charges of "hooliganism", which prompted Amnesty International to accuse the Azerbaijani government of stifling dissent. The two bloggers were finally released in November of 2010, after substantial pressure from world leaders, including President Obama.
The 2010 U.S. Department of State report on human rights in Azerbaijan confirms that unlawful detention, especially for political reasons, and ill-treatment of such detainees, have been widespread: "There were reports that torture and beating of persons in police and military custody resulted in at least seven deaths, and law enforcement officials acted with impunity. Prison conditions were generally harsh and in some cases life threatening. Arbitrary arrest and detention, particularly of individuals considered by the government to be political opponents, and lengthy pretrial detention continued. The government continued to imprison persons for political reasons, although authorities released some of these individuals during the year. Pervasive corruption, including in the judiciary and law enforcement, continued. Restrictions and pressure on the media and restrictions on political participation worsened."
Attorneys at I.S. Law Firm were also able to show that, if our client was forced to return to Azerbaijan, he would be in great danger of being detained and likely tortured and imprisoned on fabricated charges. Since our client fled Azerbaijan at the end of 2010, the political situation in the country has not only failed to improve, but has gotten significantly worse. In March-April 2011, pro-democracy activists organized a number of non-violent pro-democracy mass protests in Baku, the capital of Azerbaijan. The protests were brutally broken up by the police, and many participants were arrested and tortured in prisons. News services around the world have condemned the violence, and some analysts pointed out that, since the media is tightly controlled by the state and Internet usage rates in the country are relatively low, the situation in Azerbaijan could stay the same for a long time.
In March 2011, Bakhtiyar Hajiyev was arrested again after calling for peaceful pro-democracy protests on the Internet, inspired by the Arab spring uprisings in the Middle East and North Africa. In May 2011, Bakhtiyar Hajiyev was sentenced to two years in prison. The United States Embassy in Azerbaijan condemned the sentence. Human Rights Watch reported that Hajiyev was being beaten in prison: "Hajiyev's lawyer, Elchin Namazov, told Human Rights Watch that his client suffered ill-treatment in police custody immediately following his detention. When he visited Hajiyev on May 5, Namazov saw an open wound on Hajiyev's neck, bruises on his eyes, and a hematoma on the left side of his nose. Hajiyev had problems moving and turning his body left or right."
The Azerbaijani government is reported to be actively trying to identify dissidents, even outside Azerbaijan, including in the United States. For example, on March 10, 2011, as the March 11-12 protests in Baku were being prepared by the opposition, the Azerbaijani Embassy in Washington, DC organized a dinner for Azerbaijani students studying in the United States. During the dinner, the attendees were openly warned that anyone who supports the protests via virtual means will be punished and will not be able to return to Azerbaijan.
The Azerbaijani government is eager to imprison young and internet-savvy activists who call for democratization of the country. To do so, the Azerbaijani government is using a variety of tools and methods, including targeting and intimidating dissidents both abroad and inside the country. In November 2011, Amnesty International criticized Azerbaijani government's brutal use of force toward peaceful protesters, and released a report detailing the government's oppression of democracy. Having provided ample evidence of such oppression in general, as well as of persecution suffered specifically by our client's family, we successfully secured the grant of asylum for our client.
I.S. Law Firm is proud of our current 100% success rate in affirmative asylum cases from Azerbaijan. "Affirmative" asylum case refers to a petition filed with the USCIS, normally within one year of our client's arrival to the United States. By contrast, "defensive" asylum cases are administered through immigration courts after a person files for asylum to avoid deportation.
In order to obtain approval of our clients' asylum petitions, attorneys at I.S. Law Firm gather subjective and objective evidence, country reports, complete the forms, write memorandums, thoroughly prepare our client for the questioning, and stand by our client's side, supporting him or her throughout the entire process.
PLEASE NOTE THAT CASE RESULTS DEPEND UPON A VARIETY OF FACTORS UNIQUE TO EACH CASE. CASE RESULTS DESCRIBED BELOW DO NOT GUARANTEE OR PREDICT A SIMILAR RESULT IN ANY FUTURE CASE UNDERTAKEN BY I.S. LAW FIRM, PLLC.
If you think you may qualify for asylum, please contact us at +1-703-527-1779 or via e-mail: [email protected].
View more successful asylum cases: