Asylum for a Political Activist from Azerbaijan
I.S. Law Firm secured a grant of asylum for our client, a political activist from Azerbaijan who had been persecuted in her native country because of her political opinion and her political opposition to Azerbaijan's current regime.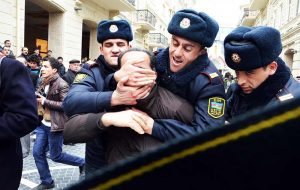 Ismail Shahtakhtinski, principal attorney at I.S. Law Firm, demonstrated to the satisfaction of the asylum officer that our client had been consistently abused, intimidated, threatened and interrogated by the government of Azerbaijan based on her political views, opinion, and political activities. The threats against our client and her family became more open and frequent after the client officially became a member of the opposition. We demonstrated by objective evidence that Azerbaijani opposition parties and their members have been systematically targeted by the Azerbaijani government.
Moreover, we showed that our client had a well-founded fear of persecution in the future if she was forced to return to Azerbaijan. While our client was already in the United States, the government of Azerbaijan has continued to persecute and arrest human rights activists.
We also provided overwhelming evidence, in the form of newspaper articles and reports by respected human rights organizations that the Azerbaijani government is notorious for persecuting, detaining, and even killing journalists, bloggers, opposition activists and other political activists. In addition, we showed that Azerbaijani judicial system has failed to provide adequate protection to the wrongly accused opposition activists. As a result, we were able to obtain asylum for our client.
It is crucial to have a good attorney prepare your document package when you file your papers with the United States Citizenship and Immigration Services (USCIS), known as affirmative asylum application. Your chances of the success are considerably higher if you retain a competent and experienced asylum lawyer. It is important to retain an attorney before you file your asylum application, not just to prepare for your interview. A good lawyer will work with you to prepare and finalize your asylum declaration and make sure that it is detailed enough and contains no ambiguities or inconsistencies.
Our principal attorney Ismail Shahtakhtinski individually meets with every client and thoroughly prepares them for their asylum interviews. We collect country condition reports and submit detailed memorandums of law in support of every asylum petition we handle. At the asylum interview, Mr. Shahtakhtinski makes sure that your case is adequately presented and that there are no misunderstandings or confusions. We pay individual attention to every client, make every case personal to us, and put all of our efforts to not just do our job, but to win every case.
At I.S. Law Firm, we also dedicate time to help those in need of legal assistance who cannot afford to pay high attorney's fees. We have a pro bono program, where indigent people can apply by filing an application with us. Such applicants may receive completely free representation or legal services at a substantially reduced rate.
Lawyers at I.S. Law Firm have helped many foreign nationals obtain asylum status, both through asylum offices and immigration courts. To learn more about asylum process, please visit: /immigration-law/asylum/. You can also read more about our successful asylum cases:
PLEASE NOTE THAT CASE RESULTS DEPEND UPON A VARIETY OF FACTORS UNIQUE TO EACH CASE. CASE RESULTS DESCRIBED BELOW DO NOT GUARANTEE OR PREDICT A SIMILAR RESULT IN ANY FUTURE CASE UNDERTAKEN BY I.S. LAW FIRM, PLLC.
If you think you may qualify for asylum, please contact us by phone at +1-703-527-1779 or via e-mail: [email protected].