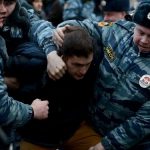 I.S. Law Firm has recently secured a grant of asylum for a woman fleeing political persecution from Russia. She was assaulted and received death threats on multiple occasions for being an active member of an organization actively opposing the current regime and its leader in one of Russia's regions.
We proved that the applicant was persecuted based on two grounds: political opinion/affiliation and membership in a particular social group. We successfully demonstrated that our client had been physically attacked numerous times, suffered severe injuries, and threatened due to her participation in several opposition organizations. Professionals at I.S. Law Firm prepared her asylum application, collected supporting documents, and represented the asylum applicant at her asylum interview in Arlington Asylum Office.
Our principal attorney Ismail Shahtakhtinski, was able to demonstrate to the satisfaction of the asylum officer that our client was indeed unable to return to her country due to the risk of an attack or even assassination. He was not only able to help the applicant receive asylum, but he was also able to shorten the process that would normally take several years. His dedication to working with this client made it possible to help reunite a woman separated from her young child, so they can live in peace in the United States without fear of persecution.
Along with the application for asylum, we submitted evidence of the country conditions, demonstrating that the events described in the applicants asylum declaration were consistent with the current reports on the human rights in Russia. The country reports on Russia also demonstrated that since the Applicant escaped from Russia, the situation with persecution of members of the opposition has not only failed to improve, but worsened. We provided cites to the US State Department's Human Rights Reports, which state the following: "The government [of Russia] increasingly instituted a range of measures to suppress dissent. The government passed new repressive laws and selectively employed existing ones systematically to harass, discredit, prosecute, imprison, detain, and fine individuals and entities that engaged in activities critical of the government, including NGOs, independent media outlets, bloggers, and the political opposition." United States Department of State Human Rights Report for Russia: 2014. "Police attacks on political and human rights activists, critics of government policies, and persons linked to the opposition continued." Id. "Leaders and members of opposition parties faced prosecution or other forms of retaliation. At year's end the heads of three major independent opposition parties were in state custody in connection with criminal cases." Id.  
Once the application was submitted, it was pending for over a year due to the backlogs in asylum offices all over the United States. Such long wait times can be frustrating for any applicant, but our client had an even more pressing situation: her young child was still living in Russia. A person granted asylum may bring a family member by filing the USCIS Form I-730. However, it cannot be filed until the application for asylum has been approved. Although most asylum cases can currently take upwards of two years, there are certain factors that can expedite the case. According to the U.S. Citizenship and Immigration Services (USCIS), a case can be expedited if it meets one or more of these criteria: severe financial loss to company or person, emergency situation, humanitarian reasons, a request by a nonprofit organization, Department of Defense, or national interest institution that is in furtherance of the cultural and social interests of the United States, USCIS error, or compelling interest of USCIS. Our client met the aforementioned criteria due to the fact that her child was still in Russia. These exigent circumstances, a child without her mother, were deemed sufficient by USCIS to expedite this case.
In result, our client was granted asylum affirmatively and quickly through the USCIS asylum office. The process of obtaining asylum affirmatively through the USCIS Asylum Office is different from the process through immigration courts. There is a common misperception that one can prepare lightly for the process through the asylum office, because there will be a "second chance" in the immigration court. This is not true. The process through an immigration court takes several years longer and costs substantially more that the affirmative process. Furthermore, the information and testimony you provide to the asylum office sticks with your case and any mistakes may be perceived as intentional misrepresentation barring you from eligibility even in immigration court. If you are not well prepared for the affirmative asylum application and do not have a good asylum lawyer to represent you in the asylum office, it will be very hard to prove your case in immigration court. You can read more about the differences between the affirmative asylum application through a USCIS asylum office and the defensive asylum application through an immigration court on this link: /asylum-through-asylum-office-vs-immigration-court/
Please note that case results depend upon a variety of factors unique to each case.Case results described below do not guarantee or predict a similar result in any future case undertaken by I.S. Law Firm, PLLC.
Our firm has helped many foreign nationals obtain asylum status, both through asylum offices and immigration courts. To learn more about asylum process, visit: /immigration-law/asylum/. You can also read about some of our other successful asylum cases:
If you think you may qualify for asylum, please contact us by phone at +1-703-527-1779 or via e-mail: [email protected].