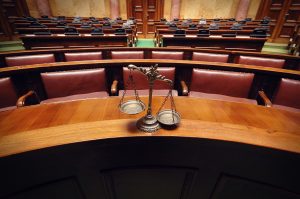 Every year, thousands of immigrants are placed in what is called "removal proceedings," meaning that they are in the process of being removed (deported) from the United States, unless they can make a convincing case for staying here. The individual placed in removal proceedings is called "respondent."
When someone is facing deportation (removal) from the United States and has no legal means of remaining in the country, there may be an option to request voluntary departure from the Department of Homeland Security (DHS) or an Immigration Judge. This option can help the respondent avoid possible future immigration consequences, such as having a deportation order and not being able to return to the U.S. for many years.
Typically, a respondent requests voluntary departure at the first hearing immigration court hearing, also known as "Master Hearing." However, a respondent may also request voluntary departure also at the end of the immigration court proceeding is the respondent has been present in the U.S. for one year or more. An immigration judge has the authority to either grant this request or deny it. The immigration judge may also order a voluntary departure bond. The respondent can get up to 120 days to voluntarily depart the United States. If the respondent fails to depart within the allowed time, the immigration court will automatically order removal.
If you are placed in removal proceedings, you should consult with an immigration attorney regarding your options. You may be eligible for various forms of relief from deportation such as asylum, relief under the Convention Against Torture, cancellation of removal, prosecutorial discretion, and relief under the Violence Against Woman Act (VAWA), adjustment of status, deferred action, and other types of relief. The consequences of being deported (removed) from the United States can be severe. You may not be able to return to the U.S. for many years. Sometimes, if you are not eligible for any other relief, voluntary departure can be the only option to prevent a deportation order against you. It is important to remember that, if you are in removal proceedings, you must be formally granted voluntary departure. If you just leave on your own, you may be considered to have self-executed an order of deportation (removal).
Attorney Ismail T. Shahtakhtinski has successfully represented numerous respondents in immigration courts all over the United States. We have successfully secured grants of asylum, adjustment of status, and other forms of relief to our clients in immigration court proceedings. If you or your loved one is in removal proceedings, contact attorney Ismail T. Shahtakhtinski at +1-703-527-1779 or via e-mail: [email protected].
NOTICE: The information contained on this page site is intended to educate the general public and is not intended to provide legal advice. To ensure proper handling of your individual situation, please call +1-703-527-1779