Political Asylum from Azerbaijan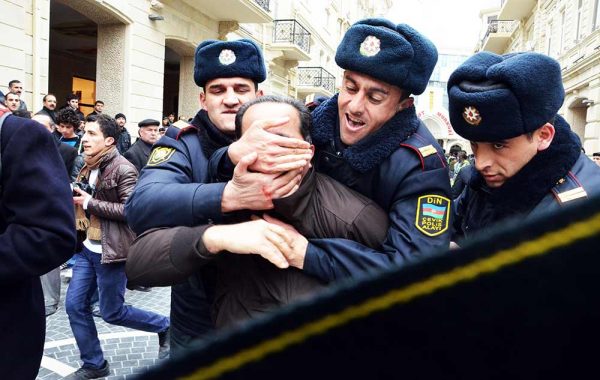 On January 20, 2012, I.S. Law Firm secured a grant of asylum in immigration court for a pro-democracy political activist from Azerbaijan who was systematically persecuted by the Azerbaijani government because of her political views, activities, and membership in a leading oppositional party.
We applaud the high level of preparedness and attention demonstrated by the Immigration Judge and the Department of Homeland Security (DHS) Counsel. Department of Homeland Security conceded that our client was eligible for asylum in the United States on the basis of the evidence submitted by attorneys at I.S. Law Firm.
At the hearing, I.S. Law Firm and DHS suggested that the asylum be granted to our client based on the records submitted. The immigration judge commended the high quality of the evidence and agreed to grant asylum to our client without hearing any testimony, based on the information prepared by I.S. Law Firm and country conditions in Azerbaijan.
The dictatorial regime in Azerbaijan has gained notoriety for systematically imprisoning, threatening and attacking dissidents, political opposition figures, and journalists based on their political opinion. The current president of Azerbaijan, Ilham Aliyev, came to power as a result of the 2003 Azerbaijani election, which was proclaimed fraudulent by independent monitors. On the day of the 2003 presidential election, opposition party members and international observers were brutally attacked by police when they gathered in front of an opposition party office in Baku waiting for the results of the election to be announced. Yet, Ilham Aliyev is still president as of January 2012, and his rule has witnessed even more antidemocratic measures.
Moreover, the Azerbaijani government uses its embassy in Washington, DC to spy on politically active Azerbaijani citizens in the United States with the goal of punishing them upon their return to Azerbaijan. For example, during a rally in front of the Embassy of Azerbaijan in Washington, DC on August 28, 2009, the Azerbaijani Embassy was openly taping each and every participant of the protest. In the process of gathering evidence in support of this petition, our attorneys collaborated with several Azerbaijani Americans who attended similar protests and also described Azerbaijani government's methods of suppressing dissent through persecution of dissenters and their family members.
The goal of the August 2009 protest in Washington, DC was to protest the imprisonment of two young oppositional bloggers, Emin Milli and Adnan Hajizade, who had been arrested in July 2009 and sentenced to two and two and a half years in prison on a charge of "hooliganism", which was widely viewed as a pretext to punish the bloggers for political dissent. Adnan Hajizade and Emin Milli were released in November 2010 after their case sparked international outcry and highlighted the oppression of media freedom in Azerbaijan.
The 2010 State Department Report on Human Rights in Azerbaijan states: "Restrictions on freedom of expression, assembly, and association impaired political party activities and significantly limited citizens' right to change their government through peaceful elections. There were reports that torture and beating of persons in police and military custody resulted in at least seven deaths, and law enforcement officials acted with impunity. … During the year there were a number of cases of police detaining members of opposition political parties in connection with their attempts to hold peaceful political demonstrations. … The law provides for freedom of assembly; however, the government severely restricted this right in practice. Although the law stipulates that groups may peacefully assemble only with prior notification of relevant government bodies, the government continued to interpret this provision as a requirement for advance permission from local officials. … The government denied opposition, NGO, religious freedom advocates, and others' requests to hold rallies on multiple occasions and broke up several unsanctioned pickets and demonstrations, often detaining participants for several hours. Many of these detentions were arbitrary. … The constitution and law provide citizens with the right to change their government peacefully; however, the government continued to restrict this right in practice by interfering in elections. … The law provides for freedom of speech and of the press and specifically prohibits press censorship; however, the government often did not respect these rights in practice."
Ilham Aliyev's dictatorial regime shows no signs of weakening its grip on power. Instead, the regime has recently intensified its brutal crackdown on dissent. In March and April 2011, the police brutally dispersed several pro-democracy demonstrations in Baku, which were inspired by the "Arab Spring" uprisings in the Middle East and North Africa. In October 2011, many of the arrested protesters were sentenced to significant jail time on fabricated or grossly exaggerated charges. This shows that the human rights situation has been deteriorating, and persecution of political activists has continued in Azerbaijan.
In order to be granted asylum, the applicant must prove that he/she qualifies as a refugee. According to the official definition, a refugee is a person who, "owing to a well-founded fear of being persecuted for reasons of race, religion, nationality, membership of a particular social group or political opinion, is outside the country of his/her nationality and is unable or, owing to such fear, is unwilling to avail himself/herself of the protection of that country; or who not having a nationality and being outside the country of his/her former habitual residence.., is unable or, owing to such fear, is unwilling to return to it".
I.S. Law Firm is proud of our current 100% success rate in affirmative asylum cases from Azerbaijan. "Affirmative" asylum case refers to a petition filed with the U.S. Citizenship and Immigration Services (USCIS) within one year of the applicant's arrival to the United States. By contrast, "defensive" asylum cases are administered through immigration courts after a person files for asylum to avoid deportation. In this particular case, our client applied for affirmative asylum with the USCIS upon her arrival to the United States, but her asylum petition was initially denied because her previous attorney did not sufficiently prepare for her USCIS interview.
In order to obtain approval of our clients' asylum petitions, attorneys at I.S. Law Firm gather subjective and objective evidence, country reports, complete the forms, write memorandums, thoroughly prepare the applicant for the questioning, and stand by the applicant's side, supporting him or her throughout the entire process.
PLEASE NOTE THAT CASE RESULTS DEPEND UPON A VARIETY OF FACTORS UNIQUE TO EACH CASE. CASE RESULTS DESCRIBED BELOW DO NOT GUARANTEE OR PREDICT A SIMILAR RESULT IN ANY FUTURE CASE UNDERTAKEN BY I.S. LAW FIRM, PLLC.
If you think you may qualify for asylum, please contact us at +1-703-527-1779 or via e-mail: [email protected].
View more successful asylum cases: