Expedited US Citizenship through MAVNI Program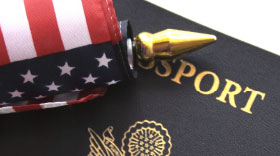 Military Accessions Vital to the National Interest (MAVNI) is a recruiting program that allows certain lawfully present non-citizens to enlist in the United States Army.
The Secretary of Defense authorized the military services to recruit certain legal aliens whose skills are considered to be vital to the national interest. Those holding critical skills – physicians, nurses, and certain experts in language with associated cultural backgrounds – would be eligible. To determine its value in enhancing military readiness, the limited pilot program will recruit up to 1,500 people per year, and will continue through May 15, 2014.
Those who enlist in this program are able to move from non-immigrant visa or asylee, refugee, or Temporary Protected Status (TPS) status directly to citizenship, bypassing the lengthy permanent residence ("Green Card") process. The military is the only employer who can offer expedited citizenship and only military service members can naturalize without first obtaining a Green Card.
MAVNI Program Criteria
1. Individuals must be in one of the following categories at the time of their enlistment:
Non-immigrant categories E, F, H, I, J, K, L, M, O, P, Q, R, S, T, TC, TD, TN, U, or V
Asylee, refugee, Temporary Protected Status (TPS)
2. The applicant must have been in valid status in one of those categories for at least two years  immediately prior to the enlistment date, but it does not have to be the same category as the one held on the date of enlistment; and
3. An applicant who may be eligible on the basis of a nonimmigrant category at time of enlistment must not have had any single absence from the United States of more than 90 days during the two year period immediately preceding the date of enlistment.
4. An applicant who is eligible under #1-3 above is not rendered ineligible by virtue of having a pending application for adjustment of status to lawful permanent residence. In the specific case of an alien with H nonimmigrant status at the time of filing a pending application for adjustment of status who has lost such status while his or her application for adjustment was pending, and who is otherwise eligible for enlistment under the MAVNI program, the military Service may on a case-by-case basis waive the requirement that the alien be in a status described in 1 above at the time of enlistment.
Health Care Professionals
Applicants must fill medical specialties where the service has a shortfall
Applicants must meet all qualification criteria required for their medical specialty, and the criteria for foreign-trained Department of Defense (DOD) medical personnel recruited under other authorities
Applicants must demonstrate proficiency in English
Applicants must commit to at least 3 years of active duty, or 6 years in the Selected Reserve
Enlisted Individuals with Special Language and Culture Backgrounds
Applicants must possess specific language and culture capabilities in a language critical to DOD
Applicants must demonstrate a language proficiency
Applicants must meet all existing enlistment eligibility criteria
Applicants must enlist for at least 4 years of active duty
Current languages recruited are Albanian, Amharic, Arabic, Azerbaijani, Bengali, Burmese, Cebuano, Cambodian-Khmer, Chinese, Czech, French (with citizenship from an African Country), Georgian, Haitian, Creole, Hausa, Hindi, Igbo, Indonesian, Korean, Kurdish, Lao, Malay, Malayalam, Moro (Tausug/Maranao/Maguindanao), Nepalese, Pashto, Persian Dari, Persian Farsi, Portuguese, Punjabi, Russian, Sindhi, Serbo-Croatian, Singhalese, Somali, Swahili, Tagalog, Tajik, Tamil, Thai, Turkish, Turkmen, Urdu (with citizenship from Pakistan or Afghanistan), Uzbek, and Yoruba.
MAVNI Application Process
Lawfully present aliens can apply for MAVNI program online, at http://www.goarmy.com/info/mavni (for persons with language skills) or http://www.goarmy.com/info/mavni/healthcare (for doctors and nurses).
To be eligible for consideration for MAVNI program, applicants must be legally present in the United States and able to provide a passport, I-94 card, I-797 form, employment authorization document or other government issued documents proving legal presence in the United States.
The information provided by an applicant will be screened, and applicant's eligibility for the program will be tentatively determined and sent to a Recruiter.
Naturalization Process
If your MAVNI application is successful and you enlist in the United States military, you may be eligible to apply for expedited naturalization.
Under Immigration and Naturalization Act (INA) Section 329, members of the U.S. armed forces who serve honorably for any period of time during specifically designated periods of hostilities may be eligible to naturalize. One day of qualifying service is sufficient in establishing eligibility.
The current period starting on September 11, 2001, will continue to be considered a designated period of hostilities until the President issues an Executive Order to terminate the designation.
The applicant must establish that he or she meets all of the following criteria in order to qualify:
The applicant may be of any age.
The applicant must have served honorably in the U.S. armed forces during a designated period of hostility.
The applicant must either be an LPR or have been physically present at the time of enlistment, reenlistment, or extension of service or induction into the U.S. armed forces:
– In the United States or its outlying possessions, including the Canal Zone, American Samoa, or Swains Island, or
– On board a public vessel owned or operated by the United States for noncommercial service.
The applicant must be able to read, write, and speak basic English.
The applicant must demonstrate knowledge of U.S. history and government.
The applicant must demonstrate good moral character for at least one year prior to filing the application until the time of his or her naturalization.
The applicant must have an attachment to the principles of the U.S. Constitution and be well disposed to the good order and happiness of the U.S. during all relevant periods under the law.
An applicant who files on the basis of military service during hostilities is exempt from the general naturalization requirements of continuous residence and physical presence. U.S. citizenship can be granted within several months after applying.
A military member whose naturalization was granted on the basis of military service on or after November 24, 2003, may be subject to revocation of naturalization if he or she was separated from the U.S. armed forces under other than honorable conditions before he or she has served honorably for a period or periods totaling at least five years.
NOTICE: The information contained on this page site is intended to educate the general public and is not intended to provide legal advice. To ensure proper handling of your individual situation, please call +1-703-527-1779.
Attorneys at I.S. Law Firm have helped many foreign-born individuals become U.S. citizens. If you are interested in applying for naturalization, please contact us at +1-703-527-1779 or via e-mail: [email protected].